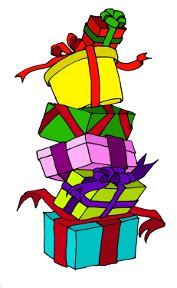 Once you start thinking in terms of marketing, benefits and values, all kinds of ideas start coming to your mind regarding what kinds of free gifts that you can give for marketing efforts. 
Here are just a few ideas … feel free to share your own ideas in the comment box below. We all want to hear your idea!
COUPON: Offering a huge discount on …(fill in the blank)
TIME:  Consultation or counseling 
DIGITAL DOWNLOAD:  A short ebook, an informative report, etc.
TIPS: Valuable tips that contain links that are helpful
AUDIO: Private radio interview, music tracks, audiobook, etc.
VIDEO: Private webinar, or interview, etc.
INTERACTIVE: Coloring pages, worksheets, puzzles
OTHER: Anything that can you download that will reflect a gift of value.
Remember, these digital downloadables contain intellectual property that can't be gotten anywhere else unless it's paid for. Always include the value of your gift. For instance, "1 hour consultation = value $150"; "Coupon for attendance at seminar = value $250" etc.
Here are some TIPS:
Appearance – Your downloadable is representing you – make it look nice! 
Branding! Branding! Branding! Include your logo!
Your website is a must – people will want to visit – and may purchase
Create a coupon or a "money-looking" certificate. Communicate value!
Be clear in your terms. I made the mistake at the beginning of just saying "cartoon" for free. That translated (100%) of the time to people as a custom logo or a unique cartoon that they would then resell or use for product use. I provided those to the first four, finally got a clue, and then clarified my terms. A free cartoon for personal, presentation, or marketing purposes only. If a desired custom cartoon or logo was needed, they received a coupon at the bottom of my downloadable that gave them $100 or an additional percentage off – and it had an end date! (Whew … quick learning curve there!)