Coaching sessions for visionaries, and creative individuals who need to stay focused on their "WHY".
Helping you build your dream … and overcome the nightmares  
Life Coaching is not counseling or therapy.  A Life Coach is specially trained to listen deeply and support you in guiding you to the answers and solutions that you need to move forward in your life, relationships, business and/or ministry.
One-on-One  Creative Coaching Sessions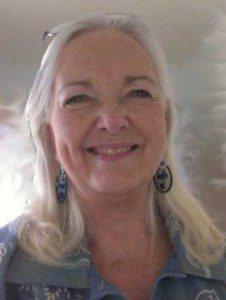 The purpose of a Creative Coaching Session is to give you the opportunity to free-flow your thoughts regarding events, ideas, dreams and desired goals that you find yourself juggling without focus. As you speak, I'm identifying common thoughts and ideas, and visually drawing them while you speak.
Shannon Parish, Professional Life Coach and CEO of Creative Virtual Office.
For more information on Life Coaching, visit her website at ShannonParish.com
EXAMPLES:
An author that had just published a book was overwhelmed with all of the social media marketing and product creation advice he was receiving. He had originally contacted us to build a website for his book, and through several coaching sessions realized a better focus and method of marketing for his life style – and the expectations of his particular readership.
A man that had been frustrated that he could never finish anything but loved starting things. He began to talk about his frustration regarding his perceived failures and lack of follow-through. As he talked, it became clear that what he was viewing as weaknesses, were, in fact, valuable assets. By re-positioning his thinking regarding his strengths, he changed his focus and became a consultant to start up businesses.
A woman over fifty wondered how to rebuild her life after her kids had left the nest and her marriage had ended in divorce.  Identifying common threads in motivation and talents, I drew identifying images and visual results of the meaning of her life. Recognizing that she had value in who she was, renewed her purpose and strength, and uncovered a forgotten talent that she turned int a viable and profitable work-at-home business.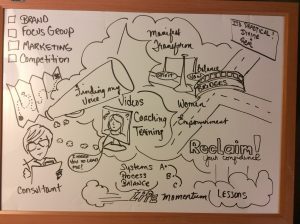 Many times, we are so familiar with our thoughts – especially the ones – that we don't see what is obvious to others. Seeing images, keywords and phrases from those thoughts on paper in front of you, brings hidden strengths to the surface and reveals negative thoughts that keep them suppressed.
Taking home the graphic recording and framing it to place on the wall is a constant reminder of the individuals worth and purpose. It in fact, becomes a personal "Goal Board" straight from the heart.



Creative Group Coaching
Creative facilitation is similar to brainstorming, but it's so much more … because I add a visual element to it that is fun, interesting and thought provoking.  Call me to schedule a  one-on-one session with you, your leadership team, employees, or family …
Experience the opportunity to free-flow your thoughts regarding events, ideas, dreams and desired goals that you and/or your leaders or attendees find yourself juggling.
As you or your attendees speak, I'm identifying common thoughts and ideas, and visually drawing them while you speak.
Tapping into the synergy of everyone in the room, examples, thoughts, ideas and concepts are drawn on a board at the front of the room to maximize the brainstorming session.
EXAMPLES:
1. One man had an invention and wanted to brainstorm on raising the money to fulfill a giant order from a major retail outlet.
3. One woman wanted feedback on the title of her new book.
The list and reasons for drawing upon the synergy that is created by coaching in a group session is the feedback you receive is filled with variety and resources. (Ask me about how you can register for a group session locally near Denver, Colorado, or online)
WHAT TO EXPECT:
Your turn on the hot seat. You have two minutes to present your question/problem or issue to the room.
The rest of the people will now spend 8-13 minutes brainstorming and throwing out ideas which you have the option of writing down. Don't worry about making any decisions – you're just collecting ideas right now. When you are home, you can review your list later.
Each person takes a turn. Because of the 8-15 minute limit on brainstorming, it is important to come prepared with your issue.
You are also welcome to come as a guest.  The ideas are flying around freely – bet you catch one! Naturally, you are always welcome to join in on the fun.  (Not everyone has a chance to be on the hot-seat – That's why its important to R.S.V.P.!)