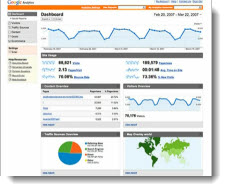 Having statistics and understanding your statistics are two very different things. Many of my customers are concerned that their site is being tracked so that they know how many visitors have visited their pages.
The problem is, that just knowing how many people have visited your site is really information that you can work with intelligently. After searching for many different video tutorials, I've landed on one that is rich with information and is very easy to understand.
It's important that you pay attention to what is being explained in this excellent tutorial so that you can better understand better what you are looking at and what you need to change and why.
Each target market is different and behaves differently. Understanding your target market will help you to identify and clarify what you need to do when you compare your online efforts with your stats. Keep in mind that your website is like a growing organism. What worked this month or season, just might not work the next season. It takes a lot of tracking over a period of time to reveal these trends.
Google Analytics help you to see visually, these patterns, over what period of time and in conjunction with your specialized marketing efforts. Whether it's a Craigslist ad, a paid advertisement, Googe AdSense, or word of mouth, or even a Google search – you'll be able to determine what is the most successful and then focus on continuing to build that marketing strategy.
About 20 minutes long, you'll want to keep your paper and pen handy, because while he's explaining these analytics, he's also giving you terrific insights and marketing tips that you need to pay attention to.