It's easier than you think …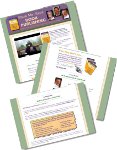 There are four main elements to a Book Launch site.  In the next four posts, I'll list them in order of appearance on your site.
These are your Book Launch pages:
LANDING PAGE

GIFT VIEWING PAGE

FORM TO CLAIM YOUR GIFTS PAGE

DOWNLOAD YOUR GIFTS
The Landing Page
This is your main home page where your readers will land to hear about your book and bonus gifts – and to purchase.
The 6 Key Elements to your landing page are …
1. Header =This is the attractive header that carries your branding and reflects the colors of your book for branding purposes. It is at the top of your landing page and sets the tone for the rest of the site's appearance.
Author photo and book cover suggested along with a tag line or descriptive phrase or quote.
2. Sales Pitch = Video and text / Why do "I" want your book? 
Not only do you want to have a short video to connect with your readers and potential buyers, but you also want the interaction that occurs when people have something to click on. It causes them to linger … which you want them to do!  Having a video on your page helps busy people to stop and pause, and become interested in the rest of your book launch sales pitch.
Layout the benefits of purchasing your book by stating what problem you are addressing by having written the book, and what they will learn in how to prevent or recover from that problem. Will it save them time? Money? Is it easy? Is it fun? What will make them want to pick up your book and read it?
Not only have your video address these things – have a quick and easy-to-read written paragraph that will also mention the same points for those who prefer to read.
3. Bonus = Optional – but a lot of fun. Pick 1 winner from buyers.
Having a bonus puts a subliminal urgency on your pitch – making people want to buy immediately to get their 'name in the hat' to hopefully better their chances of getting yet another free goody.
Your bonus can be your own consulting or coaching, or it can be another book or training system that you have on hand. It could be free tickets to a seminar you are having or a webinar that people have to register for.
Each of these ideas is additional marketing tips that inform people of YOUR value and the value of what you write.
Don't have any of these things? Take this as a push to think in terms of industry – not just a book. You are a wealth of information. Your book is just a drop in the hat – and provides opportunities for many, many more products. I dare say that something such as the "Power Rangers" probably first started out as a children's story .. then went to a book … then someone kept thinking about it and thought bigger … and bigger… and it became an industry worth millions.
4. Gift Temptation = This is the link that will lead to your next page, the Gift Preview Page.
Tease them with a link to the gifts to preview them and read their descriptions. Be sure to include graphics such as photos, logos, book covers, or even a screen capture of a website. If you have no graphic representation of the gift or the gift giver, then find clipart. (and notify the gift giver that they are missing a fantastic opportunity for promotion and branding.)
5. Call to Action = Tell them what they need to do to buy
As simple as it may sound, don't ever assume that people will know what to do next when they are reading your sales pitch. TELL THEM what you want them to do. 
"Click here" or "preview" or "do this first" helps guide the dazed mind to exactly where you want them to go.  Remember, they are spending valuable time on your site, taking it all in and wrapping their mind around what your offer is and how it will make their life better.  They don't want to hunt and peck to figure it out. Just make it easy, keep it simple and TELL THEM.
6. Testimonials = Collect them ahead of time, get photos/logos, etc.
SOMEONE knows you. They know your passion, they know your work. They have commented to you how they value what you do – or they have read your book and have enjoyed it a great deal. Who are they?
Contact these people individually and ask them if they will write something about how great the book is or how they value what you do as a professional.
If your prospects are so busy that they just don't get back to you. Think about what you've heard them say or how they would say it. YOU WRITE IT, and then send to them, a selection of perhaps three 'testimonies' and see if any of them fit. Then ask if they would endorse one of them so that you can continue with your scheduled book launch site.
People are busy. Keep this in mind when planning your book launch. Keep it simple. Keep it Clear. Keep it entertaining, intriguing, funny and/or interesting. What would YOU want to see if you were to land your page?
Free gifts that are given during a book launch do more than just give people free stuff – they are powerful marketing tools.
Here's how it works…
When I created the book launch site for "Show Me About Book Publishing", we created several elements that defined the system or the strategy of a book launch site.
The element we are addressing in this post is FREE GIFTS.  Not only are they a benefit to the purchaser of a book and to the author whose book they are purchasing, but they are also invaluable to the gift-givers themselves! How? Do you ask?
Part of building your team for your book launch is getting people to offer a free gift. Together, on a designated day, everyone sends out the same email to their lists to advertise the book launch. With their free gift as one of the enticements – their name, email, website, expertise, and a sample of what they offer is blasted to hundreds, even thousands of names all at once.
People that they would have never been exposed to, suddenly become aware of you and your business and now have your contact information. (always put your website and contact information including a phone number on your free gift downloadable.)
The question often arises, after being told that their information will go to thousands … "How can I possibly fulfill that many free gifts?"
That's the beauty of this. Only a tiny percent of the population will act on their gifts.  Many consultants have no problem offering huge chunks of consulting hours, for instance, because it's a rare person that actually follows through.
Those who do – give you praises and valuable feedback that you can glean for your marketing purposes.  One such comment that I received was:
I was just expecting a throw-away cartoon and was completely blown out of the water when you gave me this wonderful custom cartoon for my marketing needs! Thank you for doing such beautiful work. – A.J.P.
So, how do you find people who will want your free gift? How do you find people with who you can connect for your own book launch? Start here … I'll introduce you to each other.
Need ideas? Read this post …