Build your dream, and overcome the nightmares!
Invest your time, energy, and financial resources in what really matters. Your business,  your future, and your dream.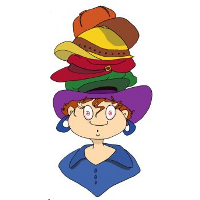 STOP WEARING ALL THE HATS!
CREATIVE & VIRTUAL SERVICES PROVIDED
WordPress websites – New, re-build, editing help, monthly maintenance to keep your site up to date and safe from hackers.
Editing – websites, theme papers, books
Virtual administrative assistance – office help – from a distance
Desktop publishing – newsletters, brochures, posters, social media graphics, business cards, and more.
Cartoons and illustrations – book illustrations, marketing,  gifts
Graphic recording – for your event, brainstorming, or personal coaching to help you see what you are envisioning.
Creative Life Coaching – making it all work with your vision and life.
Serving and Illustrating YOU, the Visionary,
YOU the author, YOU the speaker,
YOU the entrepreneur.
"If it's not your genius, then it's NOT YOUR JOB!
Delegate your projects or tedious daily tasks to those who know and specialize in completing those projects and tasks.
Contact us now to become a valuable and rewarding part of your virtual team, creatively and administratively.
Besides providing you with the services that you need,  creative coaching is included and is a vital part of everything we do.
Let's get started building your dream … Contact us to get started with a free 1/2 hour coaching session to determine your specific needs.