Here are a few of the sites created …
Creating websites for authors, speakers, small businesses, nonprofits, and visionaries!
Miss America By Day = Marilyn Vanderbur's website details her courageous exposure of the violations she endured as a child from her father, and how this altered her life dramatically.
FULL SITE (No blog) 
Steve Snyder, Author = Author of SHOT DOWN! This site is a gold mine for WWII history buffs.
FULL SITE (Including blog, videos, speaking itinerary, educational resources, directory)
Ward Lucas, Author = Denver's Channel 9 Favorite Newscaster, Ward Lucas's life and times
FULL SITE (No blog)
Strategies for Healing
FULL SITE (blog, articles) = Strategies that integrate healing the body, soul, and spirit
L.S. Lane Books
FULL SITE (No blog) = Author and editor of nonfiction books
MORE …
COMMENT:  When I first began my journey into creating a website, it was not for clients, but for myself and those I was communicating with online. Sarah's Tent began my journey into website creation in order to meet the needs of clients and visitors.
What I didn't know at the time, which was/has been, a blessing and a "curse" is that once people got familiar with using the Internet, my gut response was to answer those questions and needs by building websites. My personal websites were in response to a journey I have been on which is working with authors, speakers, entrepreneurs, and ministry workers. My natural talents (artist, cartoonist, graphic recorder) came in extremely handy when communicating or providing services for clients.
The clients I serve are limited in number as it is important for me to create a win/win relationship.
After over thirty years in ministry and obtaining a coaching education in response to familiar patterns of addressing certain frustrations with my clients, I incorporate this experience in all that I do.
WHAT I LEARNED THAT YOU NEED TO KNOW:
 When building a business, you want to focus on your WHY – not your "HOW". This was the biggest mistake and education that I've learned through the years while developing my career. Thing is, sometimes we don't know exactly WHY we do what we do. I tried to explain it to my clients through individual websites because they couldn't understand how one thing was connected to another. Yet, all of them are connected, because they come out of ME. (Thank you Simon Sinek)
Knowing your WHY (the reason behind why you do what you do.) Helps you to be concise and clear no matter HOW you do it! I was building websites based upon my HOW, and that question will never be answered fully when one is a creative and inspired individual. (Which is why I love working with authors, speakers, nonprofits, and entrepreneurs!)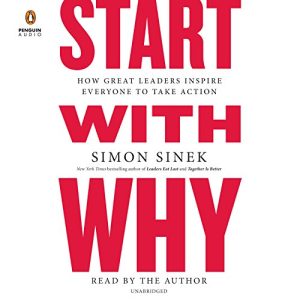 HIGHLY RECOMMEND THAT YOU READ THIS BOOK before considering a rebuild of your website, or starting a new one.
BUY ON AMAZON (not an affiliate link.)