A focused marketing campaign that drives your Amazon book sales requires a dedicated book launch site!
Solely dedicated to delivering information about your book, endorsements and any campaign bonuses.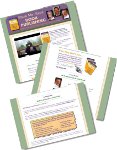 These sites are all about the CTA (Call to Action) and encouraging active interaction with your readers and have been proven over the years to drive sales and ranking on Amazon.
Not the same thing as your main website, a book launch site isn't a WordPress or blog site either. It is a series of pages that work together a in tandem during a short period of time in order to promote a newly published book.
A book launch used for marketing campaigns that push book or product during a 1-3 day event on Amazon and/or Barnes & Noble to drive sales up making that book one of the best sellers on one or both of those sites, and build your customer email list.
When planning a Book Launch site you'll want to pull together the following elements in order to make this work:
The Landing Page
This is your main home page where your readers will land to hear about your book and bonus gifts – and to purchase.
The 6 Key Elements are …
1. Header = Author and book cover suggested
2. Sales Pitch = Video and text / Why do "I" want your book?
3. Bonus = Optional – but a lot of fun. Pick 1 winner from buyers.
4. Gift Temptation = Tease them with a link to the gifts to preview
5. Call to Action = Tell them what they need to do to buy
6. Testimonials = Collect them ahead of time, get photos/logos, etc.
Gift Viewing Page
These are gifts that other professionals have agreed to contribute to your book launch to tempt people to buy your book. The win/win with this is that these people get massive marketing exposure as everyone sends out your email to their mailing lists at the same time – driving traffic to purchase your book AND to collect their gift (potential new customers for your Gift givers)  These include …
1. Graphic = Even digital books can have a graphic "cover"
2. Description =
3. Value
Form Page
Collect your customers names, emails for future marketing opportunities. Since Amazon and Barnes & Noble are getting their information, this is how you keep track of those who buy and return to your site to redeem their gifts. Keep it SIMPLE …
1. Name
2. Email
3. Books bought
4. Payment I.D.#
Gift Pick-up Page
This is where they download their gifts. Keep it SIMPLE …
1. Instructions
2. Description
3. Link
Besides doing all of above, pay attention to gathering your testimonials and your Gift Giving team.  Without these, your book launch … won't happen.
Call me to learn more (720) 295-7409