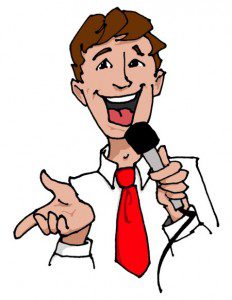 Here is a great resource from Kevin Clay regarding "How to Look More Comfortable on Camera". As I create book launch websites for my clients, I am often met with a gasp or a blank stare when I mention that one of the best elements you can have to sell your book with – is a video.
Readers love hearing from the author of the book they are thinking about buying. But, since many authors lean towards the 'introverted' side of things, creating videos and talking to a camera is just not something that is natural to them … or why would they be writing instead of talking?
However, as the Internet and social marketing becomes the norm, people want to know who is behind the scenes, and they want to connect with you, the author. Connecting with your readers through a medium that is conducive to building a feeling of relationship, people subconsciously love the idea of being 'in-the-know" and having a 'personal' connection with you. They become evangelistical fans who will help you with your marketing and thereby boost your sales and success by talking to their friends and family and sharing their discovery.
Knowing that a video could "make you" or "break you" you'll want to make the best impression that you can, and the first step to doing that is to appear very relaxed and authentic in your presentation. Many authors freeze at the very thought of making a video, but it's really easy – and with the luxury of having privacy in your own home or office, software that comes with almost all computers now, you can practice all that you want, comfortable and natural in front of a camera.  As Kevin points out, speaking to a video camera is really no different than talking on the phone. It's all in your mindset.
Here's Kevin's simple, informative, and clear video on how to become more comfortable when recording your video.  Please watch it … then have fun practicing, noticing, and creating your own. Your fans await …