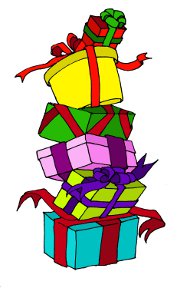 This page is for service providers and entrepreneurs who would like to be notified of opportunities to participate in book launch or focused marketing events where gifts are requested.  (This is for listing your name as a willing participant and does not guarantee an opportunity.)
FAQs / Sign Me Up!
Networking = meet additional providers who will contribute to your address book of resources
Marketing = your name, gift, and contact information will reach many more new people you would never have reached otherwise – for free!
Back scratch = you help someone who will want to help you later in your own marketing push
Up sell = your free gift offers an opportunity not only for exposure to your own personal services or products, it allows you an opportunity to offer an upsell – which will bring in income. (think outside the box)
What should I offer as a gift?
eBook = A chapter or two, or a full ebook, report. Have your information and links to your site on each page.
Report = A short ebook with valuable and useable information targeted to a specific market (example: directory of resources for discounted services/products)
Workbook = Again, a targeted people group on a specific project. (ie: quick business plan worksheet)
Service = If it is a service such as webdesign, graphic design, artwork, etc., create a downloadable certificate or a link to a page that details what you are giving and what you are NOT giving. Be

specific

!  Here's an example of my gift, it can be printed and faxed to me.
Product = Physical product. A CD, book, gadget, etc. Where can they redeem? (represent this with a coupon that can be printed and brought in to a local store, or mailed. Are you paying for shipping, are they? If they pay for shipping, make it modest (don't get greedy)
Time = Are you a coach or consultant? Give them a slot of your time for one-on-one coaching. Create a certificate that they can fax or an email they can redeem directly by emailing you personally.
Audio/Visual = A radio show, webinar, video training session, or something similar that is multi-media that others had to pay for, and is contained in a private location.
Will I get overwhelmed by people wanting my free services and/or time?
Relax if you think that everyone who buys a product that comes with free gifts, will redeem their gift with you. Many like to pick and choose what is relevant to them. (this actually pre-qualifies your possible new customer relationships)  Only a small percentage of people will act on the free gifts. Put a time limit of one year on them if you want to keep it clean. I learned that by offering a cartoon for presentations, I needed to be more specific because the first people who redeemed my offer of a "free cartoon" thought I said "logo" or "caricature" or "branded image" (something I could never use again). The lucky first four received quality work that I will use in my portfolios, and they saved a bundle with my lack of forsight.
Because I had a webpage with the offer, I was easily able to go and edit as needed in order to clarify. My benefits are that by offering something new and custom, I not only receive marketing exposure, I increase my inventory for resale later.
All of this is eliminated if you have inventory that is already created and specific for this purpose. It will be hands off.
Yes! Put me on the list …