Wasting 2-3 hours a day on deleting spam and setting filters that won't work, just about put me over the edge.
Every November there is a dramatic increase in spam emails which continue through December due to the holiday season.
Are you annoyed, but thinking that this will lighten up once the holidays pass? The last year I wasted time cleaning up my inbox, I waited it out … and deleted … and deleted … and deleted.
Patience is indeed one of my virtues, and I had accepted this nasty task as part of doing business over the Internet in our current "Cyber-world".
January rolled around and suddenly, like a plague of locusts, tons of new spam arrived in my inbox, in multiple duplicates!  Enough was enough! There had to be an answer!
Searching on Google I found post after post of on how to reduce spam, control mailing lists, and software that you download to your computer and filter from your hard drive. In fact, I was already using one of these, which I'd been happy with, but was still a bit dismayed that I still had to do the delete and train the software manually.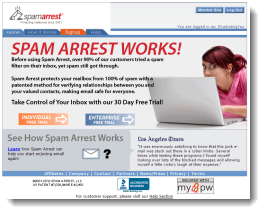 Then I came upon SpamArrest*.  It's a service where people have to confirm that they are human before their mail will pass on through. That is, people you aren't expecting mail from, who are legitimate senders – something that I was concerned about since much of my work comes from word-of-mouth referrals and Google searches.
I was prepared to pay a monthly fee for this service of what I figured would be an expected price point of at least $10 a month. It was worth it to me to do that, just to regain my valuable time and peace of mind.  To my delight, the cost for SpamArrest isn't even close to that much! You have the option of paying a monthly fee of less than $8 or save bigger chunks of money by paying for a few months in advance.  I chose the 6 month option and saved even more.
This service is a true service, and not software that you have to install or mess with. You enter your email address and your POP/IMAP settings and SpamArrest will then pull all of your email from your server and filter it. To make things easier, you can enter preferred email addresses individually, or upload from Outlook or Plaxo.
After the email has been filtered, you can still go to the "Unverified" area and double check to make sure that legitimate emails weren't accidentally filtered, and approve of them. You don't lose anything – until you delete it. (You can change many features in the settings menu so that you never see the unverified emails, but I wouldn't recommend it.)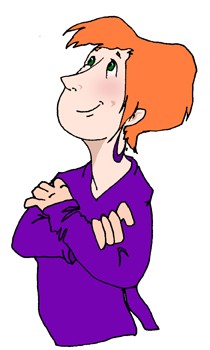 SpamArrest has a webmail feature too – meaning that you can send and receive email (including your signature if desired) straight from their website, if you like … or, you can set up your email to be pulled in through Outlook, or whichever email software you prefer. This can be set up on your phone, tablet and computer. The settings are simple and there are instructions on how to do this on the SpamArrest website.
Be prepared to think that you aren't receiving emails anymore! Just know that this is all an illusion. Instead of getting 500 emails an hour that are spam and having to sift through them all, I'm now receiving my legitimate emails nicely – and cleanly. Almost makes me dizzy, seeing how I don't have to fight my inbox anymore!
I couldn't be happier.
* This is an affiliate link. My reviews and recommendations are always true to my experiences. I would be nuts not to become an affiliate of SpamArrest! You should do the same …