Connecting with Creative Geniuses is smart business!
I had the pleasure of being a part of a video shoot for a couple of clients of mine. The young man who was doing the work is brilliant! His eye for details, his keen insights into questions that needed to be asked in order to get a quality interview and his professional manner were a tremendous joy to witness.
What made this photo shoot fun, was the fresh perspective this young man had on the subject that my clients were taping. He asked insightful questions, as he calculated the tiniest details of lighting, sound and staging … all the while creating and editing their video in his mind so that he'd get all the right shots.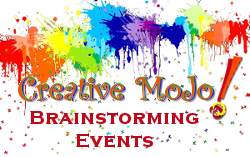 Working with creative people is a blast – even for another creative! Expanding concepts, ideas, implementing them and maximizing every detail is what we do.
Putting Creatives together with dreams, visions, projects, problems and the people who create them (yes, people create problems) is invaluable to anyone building a future.
Hurry though – seating is limited to facilitate effective conversations and brainstorming solutions.